Empowering employees through tech can supercharge returns – Lenovo
IT leaders are reporting a 5x return (USD $1 spent on these programs yields USD $5 of increased staff productivity, organizational agility and customer satisfaction), with many expecting to increase their investment by nearly 25 percent in two years.
A new Lenovo and Intel commissioned study, "Empower Your Employees with the Right Technology," conducted by Forrester Consulting, has found that the impact of technology in improving the employee experience (EX), or an employee's full journey in an organization, is much more than anticipated — highlighting opportunities for organizations' IT decision makers (ITDMs) in today's remote and hybrid work environment.
The key insight points out that while companies on average see a 5x return on investment in the EX driven by increased productivity, organizational agility and customer satisfaction, ITDMs and employees disagree on technology priorities. While ITDMs are prioritizing strategic IT integration, software and service needs, employees are more focused on their fundamental daily technology experience.
This suggests that business leaders have room to collaborate more closely with employees on their IT purchase decisions to elevate team engagement, increase customer satisfaction and improve the bottom line.
Bridging the divide between employees and IT decision makers
With organizations now shifting their focus toward remote and hybrid work, ITDMs are upgrading devices, software and services as part of EX initiatives to improve team engagement and satisfaction. Based on the research findings, this has led to more tech spending. IT leaders are reporting a 5x return (USD $1 spent on these programs yields USD $5 of increased staff productivity, organizational agility and customer satisfaction), with many expecting to increase their investment by nearly 25 percent in two years.
Yet employees still report that they're frustrated with their PC hardware and software experience:
Fifty (50) percent of respondents say their PC devices are out of date or insufficient (e.g. not fast enough, reliable enough or powerful enough)
Forty-six (46) percent note their software frequently malfunctions and disrupts their work
Only 33 percent are extremely satisfied with the current laptop provided by the company
Only 30 percent said their laptops or desktop work well for cross-collaboration.
Importantly, ITDMs and employees both define employee satisfaction with technology as a crucial goal. Satisfaction with technology also has the greatest observable positive impact: nearly 60 percent of ITDM respondents noted a more than 10-percent increase in EX scores by improving employee satisfaction with technology. It's evident that IT departments and the technologies they offer are instrumental to driving EX, beyond conventional factors such as human resources, worker benefits and more.
Yet again, there is a clear disconnect between employees and these ITDMs, whose primary concerns are the longevity of their technology investments rather than its impact on team engagement. According to the study, whereas 84 percent of ITDMs believe employees can easily switch to a different PC device if their current one needs to be replaced, only half of employees agree that's an available solution. Ultimately, both ITDMs and employees agree that refresh cycles can be improved and better aligned. In addition, ITDMs believe the integration of hardware and software will impact EX the most, whereas employees simply want devices that work consistently.
Prioritizing employees to better leverage technology investments
The study outlines a few key recommendations on how business leaders can better improve employee engagement and business outcomes through technology investments.
Realign investments. While many ITDMs are investing resources into exploring newer, emerging technologies such as 5G, augmented and virtual reality (AR/VR), and artificial intelligence (AI) or machine learning tools, based on worker respondents' feedback there is an opportunity to focus first on immediate employee priorities—building a strong foundation of collaboration tools and PC devices—while IT departments explore more advanced technology tools in parallel.
Reorganize priorities. Decision-makers should also focus on improving EX vs only focusing on specific productivity metrics. In fact, according to the study nearly 80 percent of ITDMs plan to focus on improving employee engagement over the next few months.
Focus on PCs. PCs have become critically important to employees, with 77 percent of full-time employees saying that PC devices are a critical factor in their daily work and collaboration with one another. A renewed focus on PCs can make the greatest impact on the bottom line and customer satisfaction, with most respondents agreeing that PC devices are critical to increasing customer satisfaction (69 percent), revenue growth (62 percent) and employee retention (55 percent).
Involving employees in PC investment decisions. Overwhelmingly (72 percent) of employees responded that listening to workers or getting clarity on what they need ranks in the top three of what companies should do to improve EX. This feedback is important, as employees understand their work devices' value in driving business outcomes, based on technology factors such as performance, connectivity, reliability, portability, size/weight, battery life and more. Listening to employee feedback can go a long way towards making the case for better technology options.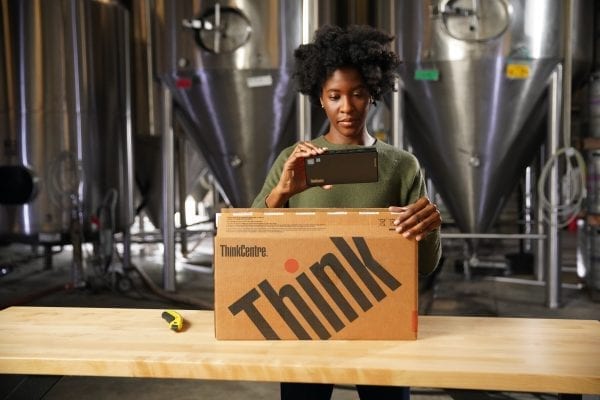 "Our new study findings further affirm our belief in the strategic importance of technology as critical investments, and not as simple transaction costs. The right deployment of technologies delivering returns can far exceed the initial expense of new business models and opportunities," said Christian Teismann, President, Commercial PC and Smart Devices Business, Lenovo. "Given employees are a company's greatest asset, the study further maps out opportunities to uplift the return on technology investment by focusing on PC devices and collaboration tools, while better involving employees in purchase decisions. In today's new remote and hybrid work set-up, these steps are pivotal for companies in yielding opportunities that go far beyond the initial spend on their technology."
Remote work doesn't negatively affect productivity, study suggests
Employee and company resiliency may be enhanced through the opportunity for employees to work remotely during natural disasters and other events that cause workplace displacement.
A research team from the Texas A&M University School of Public Health found that employee and company resiliency may be enhanced through the opportunity for employees to work remotely during natural disasters and other events that cause workplace displacement.
The team, which was comprised of Kamrie Sarnosky, Mark Benden, Garett Sansom, Leslie Cizmas and Annette Regan, worked with a large oil and gas company in Houston, Texas, to analyze ergonomic software data from 264 employees. During the study period, the company was forced to close its offices because of flooding from Hurricane Harvey, which required employees to work remotely for an extended period.
The researchers looked at employee technology data before, during and after Hurricane Harvey. They found that although total computer use declined during the hurricane, employees' work behaviors during the seven-month period of working remotely returned to pre-hurricane levels. This finding suggests that remote work does not negatively impact workplace productivity.
This study, which was published in IOS Press in February, offers important insights into information workers who have become increasingly used to and interested in working remotely as a result of the COVID-19 pandemic.
"In the future, there will be a greater percentage of the workforce who is involved in some sort of office-style technology work activities," said Benden, who is director of the school's Ergonomics Center. "Almost all of the study's employees were right back up to the same level of output as they were doing before Hurricane Harvey. This is a huge message right now for employers because we're having national debates about whether or not employees should be able to work remotely or in a hybrid schedule."
This study is part of a large effort by the Ergonomics Center that is looking at the health of information workers. Although seemingly less taxing than blue-collar work, information workers are prone to injury such as carpal tunnel syndrome. "The research says that if you work a certain way at a certain pace over a certain duration, you're more likely to become injured from that work," Benden said. "But if you work a little less or a little less often or break up the duration or have certain other character traits — like posture — then you're less likely to develop a problem from doing your office work."
The Texas A&M researchers believe this information can be used to promote healthy behaviors for employees, including those working remotely, and to inform corporate policies. They also will be looking at tracking the ergonomic environment in employees' home offices. The team believes that tracking this type of data can help companies address remote employee health issues, including stress, depression and substance abuse.
"The question was whether we could track people and rather than letting them stay in a bad place, a bad habit or bad behavior, could we give them a healthful nudge over the computer to remind them that it was time to take a walk or a break," Benden said. "We as humans are not very good at keeping track of time, especially when we're in the zone. In order to keep us from physically hurting our bodies, we need to have nudges and reminders, which people respond to, and which work really well."
Benden noted that taking breaks does not hinder employees' quality of work.
"The people who took the recommended breaks were more productive overall. They got more done," he said. "We need to learn this about people, we need to teach people about it, and then we need to help people actually do it."
Loud and clear: High-energy ads keep viewers tuned in, study shows
"By matching the energy level of ad content with consumers' state of mind, we believe advertisers can expect higher levels of acceptance and effectiveness of their messages."
TV advertising has become not only high-volume, but increasingly high-energy — a trend noticed by academics and practitioners.
A new study from the University of Notre Dame confirms the shift and shows that advertisers should pay attention to components of ad content other than loudness, which has been regulated by law.
More energetic commercials are likely to be tuned in more or avoided less by viewers, according to "High-Energy Ad Content: A Large-Scale Investigation of TV Commercials," forthcoming in the Journal of Marketing Research from Joonhyuk Yang, assistant professor of marketing at Notre Dame's Mendoza College of Business.
After examining more than 27,000 TV commercials on major U.S. networks from 2015 to 2018 and almost all Super Bowl ads from 1969 to 2020, the researchers noted that, overall, more energetic commercials hold viewers' attention.
The study measures the energy levels in commercials based on Spotify's measure of energy in song tracks. Spotify defines energy as "a perceptual measure of intensity and powerful activity released throughout the track. Typical energetic tracks feel fast, loud, and noisy." The paper's measure of energy levels in commercials is highly correlated with people's psychological state of "arousal," or "the subjective experience of energy mobilization, which can be conceptualized as an affective dimension ranging from sleepy to frantic excitement."
The top five keywords mentioned by the paper's survey participants regarding high-energy commercials were "fast," "music," "movement," "upbeat" and "exciting."
The team first presented a framework to algorithmically measure the energy level in ad content from the video of ads. They then compared this measure with human-perceived energy levels, showing they're related to the level of arousal stimulated by ad content.
"The positive association between energy levels in ad content and ad-tuning is statistically significant after controlling for placement and other aspects of commercials," Yang said.
The study also finds the association varies across product categories and program genres.
"High-energy food and beverage commercials are likely to be viewed longer when placed within entertainment and news programs, but not in sports programs," Yang said, "while energetic health and beauty commercials are viewed for shorter periods of time when placed in sports programs."
Targeted advertising has typically focused on who audiences are, as well as their locations and behaviors. This study suggests adding another dimension — the emotional or psychological state of the audience.
"By matching the energy level of ad content with consumers' state of mind, we believe advertisers can expect higher levels of acceptance and effectiveness of their messages," Yang said. "For instance, advertisers might want to vary the energy level of their ad content between day and night."
Relatedly, advertisers and television networks boost the audio of ads, making the volume much louder than the programs in which they are aired, assuming this draws attention to the ads and makes people less likely to ignore or avoid them.
This practice became so prevalent that it raised concerns about the health effects of loudness on viewing audiences, leading to regulatory limitations on how much louder ads can be than the programs in which they are placed. The resulting CALM (Commercial Advertisement Loudness Mitigation) Act passed in 2010 limits the average loudness of an ad to no more than the average loudness of the program in which it is aired.
Advertisers and networks, therefore, cannot continue to rely on loudness as a means of attracting attention to reduce ad avoidance. This forces advertisers to figure out ways to be creative in using audio to attract and retain audience attention.
Yang recommends advertisers conduct A/B tests with multiple designs of ad creatives. A/B testing splits an audience to test a number of variations to determine which performs better — for example, showing version A to one half of an audience and version B to the other; or alternating A and B across time.
"Recall that the effect varies across product markets and likely across media outlets, including digital advertising," Yang said. "I hope this study motivates the initiation of such testing as well as for providing initial guidelines on designing such studies. Also, we want to showcase the importance of careful feature engineering of ad content when relating it to consumer behavior. I would be more than happy to help practitioners who are interested in moving forward."
Co-authors of the study include Yingkang Xie and Lakshman Krishnamurthi from Northwestern University and Purushottam Papatla from the University of Wisconsin-Milwaukee.
Can bad reviews be good for business? New research says yes
When negative comments come from a socially distant source, a negative review actually increases purchase intentions – and that is a game changer.
Negative online reviews and low-star ratings are generally known to be bad for brands, so much that there are entire businesses devoted to reversing the damage. But a new study from the UBC Sauder School of Business found that this isn't always the case.
UBC Sauder Associate Professor Dr. Lisa Cavanaugh (she/her) and her research team have found that negative online comments have little effect in cases where brand relationships are strong and consumers personally identify with a brand's products. In some instances, they found negative reviews can actually have positive effects for brands.
"When consumers personally identify with a brand, they see facets of themselves in that brand," Dr. Cavanaugh said. "When a reviewer leaves a disparaging comment about an identity-relevant brand, consumers feel compelled to protect the brand, and by extension themselves, by scrutinizing the source of the negative review."
Social proximity matters when it comes to reviews
The researchers found that the social proximity (e.g., demographic or geographic location) of a negative reviewer plays a critical role in how consumers respond to a negative review.
For the study, researchers conducted sixteen different experiments using identity-relevant brands, which are companies that consumers tend to feel strongly about and personally identify with, such as Apple, Tim Hortons, Roots, and NFL football.
In one experiment, researchers surveyed NFL fans, asking them about their reactions to negative or positive online reviews of an NFL-branded sweatshirt. They found that if the reviewer's profile reflected a different social demographic, or a distant location, a negative review could actually boost the participant's interest in buying the sweatshirt even more than a positive review did.
A similar case was also observed where a negative review from a person in distant social proximity increased the likelihood participants would buy an Apple watch. And in another experiment involving President's Choice packaged coffee, participants who read a negative review by a socially distant reviewer demonstrated a 6 to 12 per cent boost in their interest in purchasing the product.
"Marketers have generally assumed that when people say positive things, purchase interest increases, and when people say negative things, purchase interest decreases," says Dr. Cavanaugh, who co-authored the study with Boston College's Dr. Nailya Ordabayeva, and UBC Sauder Professor Dr. Darren Dahl. "But when negative comments come from a socially distant source, a negative review actually increases purchase intentions – and that is a game changer." 
Dr. Cavanaugh explains that when we read negative reviews coming from someone we perceive as socially closer (e.g., maybe they share a national identity, they are a fellow student, or they like the same music) we tend to listen and accept what they have to say, causing us to downgrade our assessment of the product, as well as our willingness to purchase it.
"But when that negative review comes from a socially distant person, it is an entirely different story. You will scrutinize the source of the review and look for reasons not to believe it, specifically when it's an identity-relevant brand, "she said.
Bad reviews are still bad for lesser-known brands
Businesses shouldn't get too comfortable with poor reviews, however.
Researchers observed that if consumers don't personally identify with the product or brand — if it's a toilet brush as opposed to an Apple computer or Timbits, for example — they won't be driven to defend it, so poor reviews will still pack a punch.
Dr. Cavanaugh says the research reinforces the importance of forging strong brand relationships with customers, and cultivating that coveted connection to people's identities.
In terms of managing online reviews, she also points to the importance of displaying reviewers' profiles and review histories so readers can more easily assess their social proximity and any pattern of negative reviews. And advises that, sometimes, doing nothing (i.e., allowing those negative reviews to be seen) is better when it comes to negative reviews of identity-relevant brands.
This study was published in the Journal of Marketing.