Empowering employees through tech can supercharge returns – Lenovo
IT leaders are reporting a 5x return (USD $1 spent on these programs yields USD $5 of increased staff productivity, organizational agility and customer satisfaction), with many expecting to increase their investment by nearly 25 percent in two years.
A new Lenovo and Intel commissioned study, "Empower Your Employees with the Right Technology," conducted by Forrester Consulting, has found that the impact of technology in improving the employee experience (EX), or an employee's full journey in an organization, is much more than anticipated — highlighting opportunities for organizations' IT decision makers (ITDMs) in today's remote and hybrid work environment.
The key insight points out that while companies on average see a 5x return on investment in the EX driven by increased productivity, organizational agility and customer satisfaction, ITDMs and employees disagree on technology priorities. While ITDMs are prioritizing strategic IT integration, software and service needs, employees are more focused on their fundamental daily technology experience.
This suggests that business leaders have room to collaborate more closely with employees on their IT purchase decisions to elevate team engagement, increase customer satisfaction and improve the bottom line.
Bridging the divide between employees and IT decision makers
With organizations now shifting their focus toward remote and hybrid work, ITDMs are upgrading devices, software and services as part of EX initiatives to improve team engagement and satisfaction. Based on the research findings, this has led to more tech spending. IT leaders are reporting a 5x return (USD $1 spent on these programs yields USD $5 of increased staff productivity, organizational agility and customer satisfaction), with many expecting to increase their investment by nearly 25 percent in two years.
Yet employees still report that they're frustrated with their PC hardware and software experience:
Fifty (50) percent of respondents say their PC devices are out of date or insufficient (e.g. not fast enough, reliable enough or powerful enough)
Forty-six (46) percent note their software frequently malfunctions and disrupts their work
Only 33 percent are extremely satisfied with the current laptop provided by the company
Only 30 percent said their laptops or desktop work well for cross-collaboration.
Importantly, ITDMs and employees both define employee satisfaction with technology as a crucial goal. Satisfaction with technology also has the greatest observable positive impact: nearly 60 percent of ITDM respondents noted a more than 10-percent increase in EX scores by improving employee satisfaction with technology. It's evident that IT departments and the technologies they offer are instrumental to driving EX, beyond conventional factors such as human resources, worker benefits and more.
Yet again, there is a clear disconnect between employees and these ITDMs, whose primary concerns are the longevity of their technology investments rather than its impact on team engagement. According to the study, whereas 84 percent of ITDMs believe employees can easily switch to a different PC device if their current one needs to be replaced, only half of employees agree that's an available solution. Ultimately, both ITDMs and employees agree that refresh cycles can be improved and better aligned. In addition, ITDMs believe the integration of hardware and software will impact EX the most, whereas employees simply want devices that work consistently.
Prioritizing employees to better leverage technology investments
The study outlines a few key recommendations on how business leaders can better improve employee engagement and business outcomes through technology investments.
Realign investments. While many ITDMs are investing resources into exploring newer, emerging technologies such as 5G, augmented and virtual reality (AR/VR), and artificial intelligence (AI) or machine learning tools, based on worker respondents' feedback there is an opportunity to focus first on immediate employee priorities—building a strong foundation of collaboration tools and PC devices—while IT departments explore more advanced technology tools in parallel.
Reorganize priorities. Decision-makers should also focus on improving EX vs only focusing on specific productivity metrics. In fact, according to the study nearly 80 percent of ITDMs plan to focus on improving employee engagement over the next few months.
Focus on PCs. PCs have become critically important to employees, with 77 percent of full-time employees saying that PC devices are a critical factor in their daily work and collaboration with one another. A renewed focus on PCs can make the greatest impact on the bottom line and customer satisfaction, with most respondents agreeing that PC devices are critical to increasing customer satisfaction (69 percent), revenue growth (62 percent) and employee retention (55 percent).
Involving employees in PC investment decisions. Overwhelmingly (72 percent) of employees responded that listening to workers or getting clarity on what they need ranks in the top three of what companies should do to improve EX. This feedback is important, as employees understand their work devices' value in driving business outcomes, based on technology factors such as performance, connectivity, reliability, portability, size/weight, battery life and more. Listening to employee feedback can go a long way towards making the case for better technology options.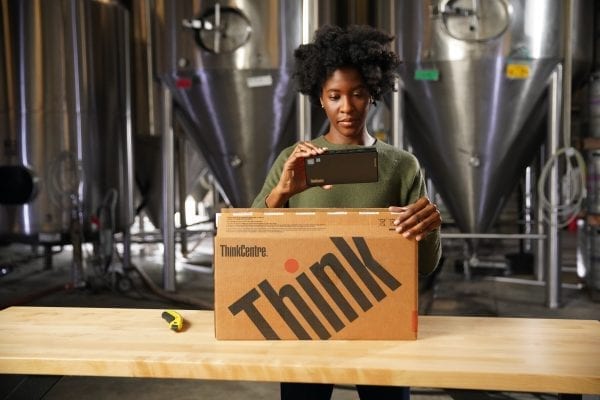 "Our new study findings further affirm our belief in the strategic importance of technology as critical investments, and not as simple transaction costs. The right deployment of technologies delivering returns can far exceed the initial expense of new business models and opportunities," said Christian Teismann, President, Commercial PC and Smart Devices Business, Lenovo. "Given employees are a company's greatest asset, the study further maps out opportunities to uplift the return on technology investment by focusing on PC devices and collaboration tools, while better involving employees in purchase decisions. In today's new remote and hybrid work set-up, these steps are pivotal for companies in yielding opportunities that go far beyond the initial spend on their technology."
PLDT, Smart drive digital transformation, offer 'lifeline' to small biz
PLDT and its wireless arm Smart Communications, Inc. (Smart) forge ahead in extending services that enable Filipinos to thrive in the new normal, reinforcing the "backbone" of the economy.
PLDT and its wireless arm Smart Communications, Inc. (Smart) forge ahead in extending services that enable Filipinos to thrive in the new normal, reinforcing the "backbone" of the economy.
"In the face of massive job losses in lower income sectors due to the shutdown of retail services and establishments, e-commerce platforms serve as a lifeline for minimum wage earners and small business owners. More than the bigger establishments' digital adoption, our network services and solutions allow small players to go into online retailing and thrive in the new normal," said Alfredo S. Panlilio, Smart Communications President and CEO and PLDT Chief Revenue Officer, at a recent online summit hosted by the Shareholders' Association of the Philippines.
The online summit series focused on reshaping the economy through inclusive business and highlighted the role of connectivity, e-commerce platforms and digital finance in the new normal, where customers have largely shifted from in-person transactions to online.
"An IBM research shows that in the space of 12 months, the pandemic has brought forward the transition from physical shopping to e-commerce by an estimated five years. Banking has also gone digital. Payment and financial processing can be done in a click of a finger," said Panlilio.
Workplace transformation
Panlilio added that, in addition to this shift, workplaces have also been transformed, alongside the entertainment needs of customers–both of which are empowered by connectivity and relevant services by PLDT and Smart.
"Analysts expect that in 2022 as much as 30% of the workforce will continue to work from home multiple days a week. Meanwhile, as people stayed home for entertainment, broadband usage across the country rose exponentially," he said, adding that these changes drove PLDT and Smart to rethink telco's role as enabler of passions and utility on the internet, with a genuine focus on providing Filipinos with the tools and products to survive and thrive in the new normal.
"The increased usage of data driven by work and study from home during the pandemic speaks of telco as a utility, while the increased use of data on a personal consumption level, such as video-streaming, online stories, e-games, etc., responding to the consumer's need to be entertained and care for their overall wellbeing, describes telco as an enabler of people's passion and purpose. Both roles are equally important," he stressed.
This is aligned with Smart's "Live Smarter for a Better World" campaign, which highlights Smart's role in enabling customers in their pursuit of passion and purpose and achieving "personal revolutions" that generate lasting positive impact to society through connectivity, long-running community partnership programs, and CSR initiatives.
To address these growing data needs, PLDT and Smart are continuously investing in their integrated fixed and wireless networks.
"Transitioning to the new digital reality requires internet speeds to increase, coverage to expand and reliability to improve," he said, adding that the companies continue to invest in their network infrastructure, particularly in their 5G networks, subsea cables, and towers, in order to secure the future of our country in this increasingly digital world.
Currently, PLDT and Smart are ramping up the rollout of Smart's 5G network nationwide, which now has over 2,600 sites–the most extensive 5G network in the Philippines.
"Our investment in fiber is also crucial and continuous, to support our increasingly connected societies. This is broadly split into the fiber connecting our homes with high-speed internet, and the enterprise point-to-point fiber network servicing the growing data demands of government and enterprise clients," he said.
PH as 'hyperscaler hub'
In addition to ramping up their fiber installation and repair capabilities despite the restrictions brought about by the pandemic, Panlilio said PLDT is also building capacities to bring hyperscalers into the country. "Ultimately, our vision is to help make the Philippines a strategic hyperscaler hub in the region," he said.
Alongside all these, Panlilio said that providing network services to support the country's COVID-19 response remains a top priority.
"The fact that network services are a crucial component in our country's COVID-19 response is something that we take to heart. Working with our government to deliver fast and reliable connectivity that is easily accessible where they are needed, such as in COVID isolation facilities, hospitals, health centers, LGUs, etc., is top priority for us at PLDT and Smart," he said. "For PLDT and Smart, and telco in general, two words stand out: service and connection."
Underpinning these services is PLDT's fiber network infrastructure, now over 429,000 kilometers, the country's most extensive. This fiber also supports Smart's mobile network, which covers 96% of the population from Batanes to Tawi-Tawi.
These initiatives form a large part of PLDT's capital expenditures, which totaled P460.7 billion in the last ten years. To address the growing data needs of their fixed and wireless customers, PLDT and Smart are prepared to invest between P88 billion and P92 billion in capital expenditures in 2021.
Xendit to support Phl startups with Level Up accelerator program
Level Up is part of the Philippine payment startup's commitment to championing the growth of SMEs in the Philippines, while making financial transactions safer and simpler in the digital age.
Xendit is powering the local small and medium enterprises (SME) community in the Philippines with the launch of its Level Up program. The initiative will feature a series of master classes and challenges to give local startups the tools and know-how to scale their businesses.
Level Up is part of the Philippine payment startup's commitment to championing the growth of SMEs in the Philippines, while making financial transactions safer and simpler in the digital age.
"Xendit is also a product of a startup accelerator in Silicon Valley, which helped us build a fast, secure, and seamless payment platform for Southeast Asia. Through our time with Y Combinator, we recognized the importance of mentorship in a startup's growth. We hope to offer the same kind of support for local entrepreneurs and SMEs," says Yang Yang Zhang, Managing Director of Xendit Philippines.
As the first part of the campaign, Xendit will launch the Business Pitch Challenge where they will select 50 to 100 startups who will get P3.5 million in waived fees to use their service. The selected SMEs will enjoy a secure, easy-to-integrate payment system and a seamless payment experience for their clients. The selected startups will also join a master class to learn how to maximize their payment gateway experience.
For the overall programme, the Xendit Level Up initiative will waive P3.5 million per business in free transactions for up to 1000 entrepreneurs and businesses in Philippines and Indonesia to scale and level-up, while embracing the digital transactions that are increasingly critical in the region. The company will provide comprehensive payment options, quick set-up, and instant payment process so they can be onboarded right away.
To join Level Up, create a 3-minute video to upload on Youtube with the hashtag #LevelUpPH, and submit the link of your video along with the filled up application form on http://bit.ly/xenditph-level-up from April 23 to June 30, 2021. Entrepreneurs who wish to participate in the Business Pitch Challenge can create a video pitch explaining their current product or service.
"We are excited to meet promising startups in the Philippines and see how we can work together so they can reach their idea's economic potential. We are confident that this program can nurture the businesses of tomorrow and in turn, continue building the country's digital payments infrastructure," says Yang Yang.
UPS helps its Phl customers maintain critical infrastructure following typhoon
UPS's recent expansion of its Worldwide Express Freight (WWEF) shipment service to more postal codes in the Philippines comes as welcome news to West Point Engineering, a long-time customer of UPS.
Sitting in a tropical storm-prone belt of the Pacific Ocean known as 'typhoon alley,' the Philippines experiences an average of 20 tropical storms every year. 
Last year, on top of dealing with the pandemic, the Philippines was hit by Super Typhoon Goni, the most powerful tropical cyclone in the world in 2020. Goni, or Rolly as it's locally known, ploughed through Luzon and affected 2.7 million people, displacing 31,000 and damaging or destroying 281,000 homes. Sanitation and hygiene become immediate concerns in the aftermath of a storm like this, with essential water infrastructure usually damaged.
West Point Engineering Supplies Incorporated provides specialized products and solutions to essential infrastructures in the Philippines, such as water, energy and meteorology.
Among its list of projects is a 10-year program with the weather information services company, Earth Networks, and the Philippine Atmospheric, Geophysical and Astronomical Services Administration. They'll collaborate to use weather monitoring sensors that provide earlier warnings for tropical storms.
For West Point Engineering, speed and efficiency is essential in installing and maintaining specialized equipment like weather radars, which can save lives and homes.
That's why UPS's recent expansion of its Worldwide Express Freight (WWEF) shipment service to more postal codes in the Philippines comes as welcome news to West Point Engineering, a long-time customer of UPS.
Businesses like West Point Engineering will benefit from time-guaranteed palletized shipments above 70 kilograms to more areas in Bulacan, Mabalacat, Angeles City, Laguna and Batangas, allowing businesses to more easily and quickly replenish bulk inventories. This helps customers meet urgent, sometimes life-saving, delivery requirements.
"We have been a partner of UPS for over seven years," said Dennis Ziganay, president and CEO of West Point Engineering. "Through this pandemic, we've been able to meet the demands of these challenging times … thanks to UPS."
With businesses needing a more agile and precise process in responding to the needs of the market and its customers, accessibility is key in responding to natural disasters around the globe.
"Exporters, SMEs and long-time partners like West Point Engineering are important contributors to the local economy. As they grow and expand, we listen to their changing supply chain requirements and cater to their needs," said Chris Buono, managing director of UPS Philippines and Indonesia.
 "Whether it's one of the several natural calamities that occurred in the Philippines or an ongoing pandemic, UPS is committed to delivering what matters for our customers as they bounce back from a difficult year," Buono ended.