HP study reveals optimism among SMB owners
Some 60 percent of respondents see digital transformation as key with innovation in work processes, flexible work options and customized products and services identified as future strategies. However, cost effective solutions are required given cashflow remains top of mind and SMBs are unclear where to look or what such solutions are available. This is especially key where only 4 in 10 SMBs have a department or person responsible for innovation.
HP Inc.'s latest study on SMBs in Asia-Pacific, "Survival to Revival", surveying 1,600 SMBs across eight countries in Asia reveals over 50 percent of small-medium business owners expect not just to survive but thrive following the pandemic and feel that digital transformation will be a key part of this revival.
In response, HP is introducing integrated services-based print solutions including an HP Roam for Business bundle to make it easy to print on the go and enhanced HP SecurePrint a flexible, cloud-native solution that releases documents only to authorized users.
Some 60 percent of respondents see digital transformation as key with innovation in work processes, flexible work options and customized products and services identified as future strategies. However, cost effective solutions are required given cashflow remains top of mind and SMBs are unclear where to look or what such solutions are available. This is especially key where only 4 in 10 SMBs have a department or person responsible for innovation.
"SMBs are the lifeblood of every economy in Asia but the pandemic has hit SMBs hard. As the engines of growth for Asia economies, it is critical for them to move past survival to revive their businesses," said Ng Tian Chong, Managing Director, Greater Asia at HP. "This study provides us with the insights to provide practical help for SMBs so that they have access to an ecosystem of devices, tools and technology. With these resources, we want to help SMBs unlock innovation for customer and employee-centric experiences, as well as broadly upskill talent to rebound from the pandemic and prepare for the future."
Completed in June 2020, the study surveyed across Australia, India, Indonesia, Japan, South Korea, Singapore, Thailand, and Vietnam found:
Companies most confident of bouncing back place high importance on digital adoption Across the region, nearly 60% view digital adoption as very important or essential. Indonesian SMBs are particularly sensitive to this need, with a full 74% believing it is essential or very important, as is Thailand, also at 65%.
Growth projections are significantly adjusted post pandemic. Across the region, 46% of SMBs expecting growth prior to the pandemic but that figure has dropped dramatically to just 16%. India and Vietnam are the most confident about post pandemic growth and Singapore, Japan and South Korea are least positive.
Disruption to productivity is a common experience during COVID. Only 6% of SMBs recorded higher levels of workplace productivity compared to pre-COVID period while 43% recorded lower productivity.
Skills was identified as an issue: The pandemic amplified the lack of digital-first mindsets and skills within existing SMBs that hamper growth, affecting nearly half (44%) of respondents.
SMBs are unclear on where to look for assistance: Financial institutions rank high (31%); 60% of SMBs consider government support to be insufficient and/or are unclear on what support is available; only 19% of respondents turn to IT companies for help
A need for Talent
Underpinning all of this, is a need to identify digital talents who can help SMBs to transform the business. The majority of SMBs do not dedicate resources and/or invest in innovation as a discipline; it is more common to ask customers what they want, or simply mirror what the competition is offering. Only one in five SMBs have customized offerings, looked for new sales & supply-chain channels or introduced new lines of business.
In this respect, Indonesia (59%) and Thailand (51%) stand out for having the highest percentage of SMBs dedicating resources to innovation. Unsurprisingly, SMBs in Indonesia and Thailand are also most confident about business performance post COVID.
Services and solutions for SMBs
To support SMBs in adapting to new agile working environments, HP has introduced a suite of integrated services-based print solutions to enable SMBs to stay productive and effective no matter where they work. HP is now offering a one-year license for HP Roam for Business with a compatible HP LaserJet Pro 400-series bought by 31 October 2020, making it easy to print on the go from a mobile device and to retrieve the job touchless at any HP Roam-enabled printer within the company network
In addition, HP has enhanced HP SecurePrint which now supports all network types, including traditional networks behind a firewall as well as serverless print environments, helping customers simplify IT infrastructures. To empower workers the HP Workpath ecosystem, which enables workers to connect to cloud-based platforms directly from the Multifunction Printers (MFP), has expanded rapidly since it launched in November 2019, with 100+ apps available on the platform and thousands of apps deployed.
To meet the demands of the SMB worker's multi-task, multi-place workday, HP PCs are designed to enable them to work anywhere when inspiration comes, giving them the performance that matches up to their creativity, and allowing them to collaborate seamlessly and effortlessly to bring their ideas to life
Security is a top priority in agile working environments. To ensure SMBs get ease of mind when working anywhere, HP is offering Sure Click Pro for free to all HP and non-HP Windows customers till September 30, 2020. HP Sure Click technology guards against malware, ransomware, and viruses embedded in email attachments or malicious websites.
HP is making it easy for SMBs to get their hands on the latest technology. Through initiatives like HP For Business in Thailand, HP has tailored a monthly subscription program with powerful devices with trusted security, and 24/7 technical support. The program helps relieve financial pressures on entrepreneurs in the short term and takes care of their IT management needs.
Continuous upskilling is critical for SMBs to revive and grow. The HP LIFE program offers free online self-paced training courses designed to help entrepreneurs and SMBs acquire new skills to grow their business, such as business communications, having a success mindset, social media marketing, and design thinking.
Methodology
In total, 1,600 SMBs completed the survey between 26th May 2020 to 7th June 2020, which comprised of 200 interviews in each of the markets: Australia, India, Indonesia, Japan, South Korea, Singapore, Thailand, and Vietnam. Only an Owner, Partner, Managing Director, CEO, COO, CFO, or a Director of a business with less than 200 employees qualified for the survey. Interviews were split evenly between Micro Business (<10 employees), Small Business (10-49 employees), and Medium Business (50-199 employees). Multiple industries were represented including Retail/Wholesale, Manufacturing, Professional Services, Healthcare, Education and Financial Services.
COVID-19 accelerating skills gap, raising employee expectations of their employers – IBM
71% of high performing companies surveyed report they are widely deploying a consistent HR technology architecture, compared to only 11% of others.
As many business leaders look to close the skills gap and cultivate a sustainable workforce amid COVID-19, a new IBM Institute for Business Value (IBV) studyreveals less than 4 in 10 human resources (HR) executives surveyed report they have the skills needed to achieve their enterprise strategy.
Pre-pandemic IBM research in 2018 found as many as 120 million workers surveyed in the world's 12 largest economies may need to be retrained or reskilled because of AI and automation in the next three years. That challenge has only been exacerbated in the midst of the COVID-19 pandemic – as many C-suite leaders accelerate digital transformation, they report inadequate skills is one of their biggest hurdles to progress.
Ongoing IBM consumer research also shows surveyed employees' expectations for their employers have significantly changed during the COVID-19 pandemic but there's a disconnect in how effective leaders and employees believe companies have been in addressing these gaps. 74% of executives surveyed believe their employers have been helping them learn the skills needed to work in a new way, compared to just 38% of employees surveyed, and 80% of executives surveyed said their company is supporting employees' physical and emotional health, but only 46% of employees surveyed agreed.
"Today perhaps more than ever, organizations can either fail or thrive based on their ability to enable the agility and resiliency of their greatest competitive advantage – their people," said Amy Wright, managing partner, IBM Talent & Transformation. "Business leaders should shift to meet new employee expectations brought on by the COVID-19 pandemic, such as holistic support for their well-being, development of new skills and a truly personalized employee experience even while working remotely. It's imperative to bring forward a new era of HR – and those companies who were already on the path are better positioned to succeed amid disruption today and in the future."
The new IBV study, "Accelerating the journey to HR 3.0,"conducted in partnership with global independent analyst Josh Bersin of the Josh Bersin Academy, includes insights from more than 1,500 global HR executives surveyed in 20 countries and 15 industries. Based on those insights, the study provides a roadmap for the journey to the next era of HR, with practical examples of how HR leaders at surveyed "high-performing companies" – meaning those that outpace all others in profitability, revenue growth and innovation – can reinvent their function to build a more sustainable workforce.
Additional highlights from the study include:
Nearly six in 10 high performing companies surveyed report using AI and analytics to make better decisions about their talent, such as skilling programs and compensation decisions. 41% are leveraging AI to identify skills they'll need for the future, versus 8% of responding peers.
65% of surveyed high performing companies are looking to AI to identify behavioral skills like growth mindset and creativity for building diverse adaptable teams, compared to 16% of peers.
More than two thirds of all respondents said agile practices are essential to the future of HR. However, less than half of HR units in participating organizations have capabilities in design thinking and agile practices.
71% of high performing companies surveyed report they are widely deploying a consistent HR technology architecture, compared to only 11% of others.
"In order to gain long-term business alignment between leaders and employees, this moment requires HR to operate as a strategic advisor – a new role for many HR organizations," said Josh Bersin, global independent analyst and dean of the Josh Bersin Academy. "Many HR departments are looking to technology, such as the cloud and analytics, to support a more cohesive and self-service approach to traditional HR responsibilities. Offering employee empowerment through holistic support can drive larger strategic change to the greater business."
Report findings suggest three core elements to promote lasting change
According to the report, surveyed HR executives from high-performing companies were eight times as likely as their surveyed peers to be driving disruption in their organizations. Among those companies, the following actions are a clear priority:
Accelerating the pace of continuous learning and feedback
Cultivating empathetic leadership to become a more health-oriented company and support employees' holistic well-being
Reinventing their HR function and technology architecture to make more real-time data-driven decisions
Burger King Brazil is an example of a company who rapidly responded to new employee expectations and needs presented by this moment. Burger King Brazil worked with IBM to create a new virtual assistant based on IBM Watson Assistant, which helped during the pandemic to provide its workforce with self-service support and more transparent communications and connection to each other and company leadership. The solution supports its 16,000 employees, and on average responded to 1,100 questions per day in April alone.
Empowering employees through tech can supercharge returns – Lenovo
IT leaders are reporting a 5x return (USD $1 spent on these programs yields USD $5 of increased staff productivity, organizational agility and customer satisfaction), with many expecting to increase their investment by nearly 25 percent in two years.
A new Lenovo and Intel commissioned study, "Empower Your Employees with the Right Technology," conducted by Forrester Consulting, has found that the impact of technology in improving the employee experience (EX), or an employee's full journey in an organization, is much more than anticipated — highlighting opportunities for organizations' IT decision makers (ITDMs) in today's remote and hybrid work environment.
The key insight points out that while companies on average see a 5x return on investment in the EX driven by increased productivity, organizational agility and customer satisfaction, ITDMs and employees disagree on technology priorities. While ITDMs are prioritizing strategic IT integration, software and service needs, employees are more focused on their fundamental daily technology experience.
This suggests that business leaders have room to collaborate more closely with employees on their IT purchase decisions to elevate team engagement, increase customer satisfaction and improve the bottom line.
Bridging the divide between employees and IT decision makers
With organizations now shifting their focus toward remote and hybrid work, ITDMs are upgrading devices, software and services as part of EX initiatives to improve team engagement and satisfaction. Based on the research findings, this has led to more tech spending. IT leaders are reporting a 5x return (USD $1 spent on these programs yields USD $5 of increased staff productivity, organizational agility and customer satisfaction), with many expecting to increase their investment by nearly 25 percent in two years.
Yet employees still report that they're frustrated with their PC hardware and software experience:
Fifty (50) percent of respondents say their PC devices are out of date or insufficient (e.g. not fast enough, reliable enough or powerful enough)
Forty-six (46) percent note their software frequently malfunctions and disrupts their work
Only 33 percent are extremely satisfied with the current laptop provided by the company
Only 30 percent said their laptops or desktop work well for cross-collaboration.
Importantly, ITDMs and employees both define employee satisfaction with technology as a crucial goal. Satisfaction with technology also has the greatest observable positive impact: nearly 60 percent of ITDM respondents noted a more than 10-percent increase in EX scores by improving employee satisfaction with technology. It's evident that IT departments and the technologies they offer are instrumental to driving EX, beyond conventional factors such as human resources, worker benefits and more.
Yet again, there is a clear disconnect between employees and these ITDMs, whose primary concerns are the longevity of their technology investments rather than its impact on team engagement. According to the study, whereas 84 percent of ITDMs believe employees can easily switch to a different PC device if their current one needs to be replaced, only half of employees agree that's an available solution. Ultimately, both ITDMs and employees agree that refresh cycles can be improved and better aligned. In addition, ITDMs believe the integration of hardware and software will impact EX the most, whereas employees simply want devices that work consistently.
Prioritizing employees to better leverage technology investments
The study outlines a few key recommendations on how business leaders can better improve employee engagement and business outcomes through technology investments.
Realign investments. While many ITDMs are investing resources into exploring newer, emerging technologies such as 5G, augmented and virtual reality (AR/VR), and artificial intelligence (AI) or machine learning tools, based on worker respondents' feedback there is an opportunity to focus first on immediate employee priorities—building a strong foundation of collaboration tools and PC devices—while IT departments explore more advanced technology tools in parallel.
Reorganize priorities. Decision-makers should also focus on improving EX vs only focusing on specific productivity metrics. In fact, according to the study nearly 80 percent of ITDMs plan to focus on improving employee engagement over the next few months.
Focus on PCs. PCs have become critically important to employees, with 77 percent of full-time employees saying that PC devices are a critical factor in their daily work and collaboration with one another. A renewed focus on PCs can make the greatest impact on the bottom line and customer satisfaction, with most respondents agreeing that PC devices are critical to increasing customer satisfaction (69 percent), revenue growth (62 percent) and employee retention (55 percent).
Involving employees in PC investment decisions. Overwhelmingly (72 percent) of employees responded that listening to workers or getting clarity on what they need ranks in the top three of what companies should do to improve EX. This feedback is important, as employees understand their work devices' value in driving business outcomes, based on technology factors such as performance, connectivity, reliability, portability, size/weight, battery life and more. Listening to employee feedback can go a long way towards making the case for better technology options.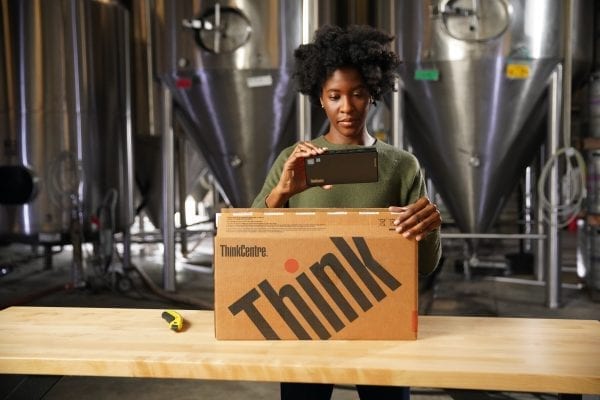 "Our new study findings further affirm our belief in the strategic importance of technology as critical investments, and not as simple transaction costs. The right deployment of technologies delivering returns can far exceed the initial expense of new business models and opportunities," said Christian Teismann, President, Commercial PC and Smart Devices Business, Lenovo. "Given employees are a company's greatest asset, the study further maps out opportunities to uplift the return on technology investment by focusing on PC devices and collaboration tools, while better involving employees in purchase decisions. In today's new remote and hybrid work set-up, these steps are pivotal for companies in yielding opportunities that go far beyond the initial spend on their technology."
Local startup 1Export brings global opportunities to MSMEs
In tough times like these, taking steps toward exporting may seem expensive, confusing and risky, especially since a profitable return is not certain. This is where 1Export comes in.
As the current economic downturn continues, exporting has become one of the last remaining opportunities for micro, small, and medium enterprises (MSME's) hoping to hold on through the pandemic. Many such businesses are finding a life line through the local startup 1Export, an end-to-end platform for cross-border trade and fulfillment.
With 1Export's help for all their exporting needs, MSMEs aren't just staying above water, they are growing. 1Export has won numerous awards internationally (Gojek Xcelerate 2019 & SoGal San Francisco 2020 Global Pitch winner), because of its focus on making exporting easier for businesses big or small. It remains to be the largest export e-commerce platform in the Philippines in terms of revenue share.
In tough times like these, taking steps toward exporting may seem expensive, confusing and risky, especially since a profitable return is not certain. This is where 1Export comes in. Led by young professionals in their respective fields, 1Export is a one-stop, holistic solution for businesses looking to expand their market range without needing to carry the numerous pitfalls associated with exporting their products.
Exporting through technology
As the process of becoming compliant begins, 1Export holds the hands of its partners by finding them the appropriate buyers for any and all of the products that they wish to export. Currently, 1Export offers its services to 9 international markets, with each market having their own sets of standards that each business must comply with in order to successfully export their products. These compliance standards make exporting more complicated than it needs to be. 1Export smooths out the process with a tech platform, which makes creating the correct documentation for any country simple. In addition to this, MSME suppliers can also conveniently use automated labeling through a simple upload of a photo, making the path to going global a seamless one. With a myriad of services to adequately equip partner suppliers with their exporting needs paired with a 100% port clearance rate, 1Export presents an opportunity unlike any other with a potential to earn in US dollars.
"Exporting is often viewed as a tedious and laborious process. For most MSMEs, creating a truly globally competitive brand remains just a pipe dream. We believe that, when done right, exporting can be a powerful tool to showcase MSME talent, uplift the economy, and change the lives of people. At 1Export, we aim to harness the innate ingenuity, talent and beauty of the country and showcase it to the world." Daniel Remo, Chief Operating Officer of 1Export says.

Hope for our MSMEs
Mel Nava, CEO of 1Export, during their pitch in SoGal San Francisco 2020
There are a lot of opportunities that MSMEs can take advantage of while in this pandemic. Global trends point to an increase in purchase of essential products, but as the curve flattens in other countries, people are looking for things that provide comfort or happiness. So the question at the end of the day is, how do we make MSME products relevant? According to Mel Nava, Chief Executive Officer of 1Export, "We make them globally competitive so that they can export, we help them export so they can sell more, stay afloat, and serve the needs and wants of other markets". Because travel is limited, cross-border trade has increased and to bring products people want and long for now need to comply with trade regulations abroad.
While the pandemic has been the cause for the demise of a lot of businesses, there is hope for the economy because platforms like 1Export addresses the various problems of MSMEs brought about by exporting: a need for international partners, compliant products, and finding guaranteed buyers. In a time of disarray and economic decline, 1Export has created a system that works for both its buyers and suppliers, making it a complete and sustainable technology platform of the country.